Thor King Pig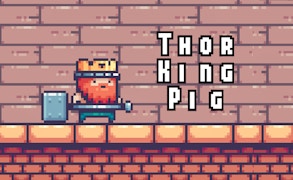 Thor King Pig
Description
In Thor King Pig, the player takes on the role of Thor, a mighty knight on a thrilling adventure to vanquish his mortal enemy, the King Pig. This pixel-style game packs a punch as Thor must navigate through perilous landscapes, braving water hazards and enemy soldiers, while also finding and collecting precious diamonds. The ultimate objective: reaching the door to claim victory over the regal swine.
How to Play
The game offers two control methods for user convenience: WASD keys for Desktop gamers, and Mobile Touch Control for those preferring mobile gaming. Gameplay involves moving Thor around to dodge enemies, fling his ax at threats, and grab diamonds. However, keep an eye on the ultimate prize – reach that door!
Tips and Tricks
Avoid lingering underwater as it could cost Thor his life or result in him being slain by King Pig's soldiers. Always prioritize reaching the door over diamond collection– survival trumps wealth in this epic battle. Make good use of Thor's ax-throwing ability to neutralize threats from a distance.
Features
Pixel-style graphics: Enjoy retro vibes with detailed pixel-art visuals.
Dual control modes: Choose between WASD keys or Mobile Touch Control based on your preference.
Addictive gameplay: Navigate through challenging landscapes while battling with enemies.
Rewards system: Collect diamonds along your journey for added excitement.
What are the best online games?