The Smurfs Cooking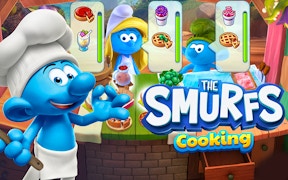 The Smurfs Cooking
Calling all junior chefs and gaming gourmets! Immerse yourself in the mesmerising world of the Smurfs with The Smurfs Cooking, a delightful dive into the tantalising realm of cooking-games and restaurant-games perfectly suited for kids and strategy lovers alike.
In this charming narrative, you play alongside Chef Smurf, busily preparing for the grand village festival. Showing off your confectionery prowess, you'll bake everything from cupcakes, to pancakes, to irresistible donuts. But it's not just about baking - you're also tasked with adding that all-important finishing touch, decorating your sweet creations with delicious icing and jam.
The heart of The Smurfs Cooking lies in its strategic element. Each level presents a distinct challenge: serve up the perfect snacks to each unique Smurf patron visiting your booth. You need to think fast on your feet, multitasking between baking mouth-watering treats and decking them out, all while selecting the right beverages to complement each order.
The Smurfs Cooking brilliantly balances its kid-friendly appeal with a simple yet engaging strategy component. The game is an absolute visual treat - splashes of vivid colors combine with lovable Smurf characters creating an enchanting aesthetic that captures the spirit of the beloved franchise.
If you're looking for a game that marries culinary creativity, lovable characters and strategic thinking into one addictive package - then step right up and join Chef Smurf at his booth! Savor every moment of this delightful addition to the realm of kids-strategy games, because The Smurfs Cooking is one serving you won't want to miss!
What are the best online games?