The Rescue Rocket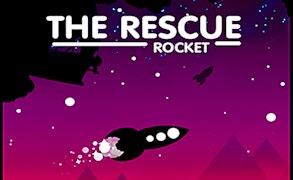 The Rescue Rocket
Description
In The Rescue Rocket, you are a courageous astronaut on a mission to save humanity! Gather your crew and rush them to safety through a portal to rescue the world. Expect an exciting spaceship ride filled with risks as you navigate through obstacles without any collisions. Your piloting skills will be put to the test as you strive to save as many of your teammates as possible before reaching the finish.
How to Play
Controlling your spaceship in The Rescue Rocket requires full attention. Navigate your spaceship by using your cursor or touchscreen (for mobile users). Carefully manoeuvre through perplexing obstacles without hitting them and ruin the mission. Your goal is not only to reach the finish line but also to safely transport as many teammates as possible along the way.
Tips and Tricks
Optimal control is key in The Rescue Rocket. Practice your maneuverability skills for better control of the spaceship. Remember, speed is not always advantageous; being slow but steady can ensure survival. Consistently rescuing teammates increases your total score, so don't miss any!
Features
An exhilarating space survival arcade game.
Skill-based spaceship navigation challenge.
Rewarding rescue missions with scoring system based on teammates saved.
Suspense-filled gameplay with constantly appearing obstacles and new areas.
What are the best online games?