Dogeminer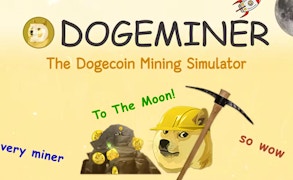 Dogeminer
There can be a mystery surrounding where certain memes come from, but a lot of credit can be given to cute animals like the Shiba Inu of Dogeminer. As the original dogecoin game, it's your job to get as many dogecoins as possible. Likely inspired by the trend of mining digital currency over long periods of time, this game is very deliberate in having you do the lion's share of the work in order to get as many dogecoins as you can. Only then, can you reach the Shiba's dream of buying all the things you need in order to get to the Moon.
About Dogeminer
As far as meme games go, this one is pretty simple and solid. It's an idle tapping game that's based around internet humor but it's not too invasive. You'll get popups of poor grammar while all the images and graphics look like they were ripped from different memes. It's a harmless activity to get you busy similar to games like Cookie Clicker. You can get into a rhythm of clicking and buying which will amass you a large number of coins while you're lost in thought. Though, considering the clear and minimal visuals, there won't be too much to distract you from what you're doing.
How to Play
The original Dogeminer is restricted to just the mouse which can is convenient. You click on the rock where the big Shiba Inu is to mine coins with the number of coins mined based on how fast and how much you click. You can also navigate the menu on the right side in order to hire helpers and facilities to automatically mine coins for you. There's also an upgrade menu to improve the pickaxe of the main Shiba and your helpers/facilities which increases how many coins they can mine at once.
The goal is to mine enough coins to afford a Rocket Ship to the Moon. Despite the introduction, the true price of the Rocket is only 100,000 dogecoins. Once you get to the moon, you can have two mining operations going at the same time. At this point, the goal becomes trying mine enough dogecoins to get to other planets and eventually afford the Time Machine which supposedly takes you to infinite dogecoin. This means you'll need to mine 999,999,999 dogecoins.
Tips and Tricks
The best way to start is to start strong by clicking as much as you can to build up enough reserve to buy a lot of helpers/facilities at once. You should hold the mouse in place in one hand and then mash the left mouse button with your dominant hand. This is also a game that benefits you to forget that it's running.
Game Details
Developer: rkn_dev
Platforms: Web Browser (PC and mobile) and Android
Languages: English
Gameplay Footage
FAQs
What happened to the first Dogeminer?
The first Dogeminer is still available to play on PC and Android devices, but it is often overlooked due to the release of Dogeminer 2 which is considered the refined and updated version.
Is Dogecoin real and worth it?
Although initially created as a joke, Dogecoin has become a valid cryptocurrency that current calculations consider profitable.
Games similar to Dogeminer
With the idle-clicking nature of this title, you can find it in the Idle and Clicker Games categories on GamePix. You can also find such games as Idle Lumberjack, Food Empire Inc, Idle Craft, and My Sugar Factory.
What are the best online games?