The Last Ninja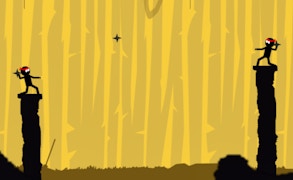 The Last Ninja
Dive headfirst into the gripping world of ninja games with The Last Ninja, an action-packed journey into a realm of stealth, agility, and deadly combat. Assimilate yourself in a grand storyline that binds you to the shadows, all the while pitting you against challenges that will test your every skill.
The Last Ninja is a colossal leap in the genre of battle games, with intuitive controls that let you deal devastating blows and stylish takedowns. Immerse yourself in vividly detailed graphics that make every enemy encounter feel real and intense. The ground-breaking AI doesn't just challenge - it learns from your strategies creating new obstacles time after time – keeping you on your toes.
Delve into the life of a true warrior as the game brilliantly captures the essence of being a ninja - shrouded in mystery, silent as night and more dangerous than any weapon. The impeccable scoring system and leaderboards hold testament to your growing skills and chronicle your ascent from an untrained aspirant to becoming The Last Ninja.
While many ninja games have come and gone, what sets The Last Ninja apart is its commitment to authenticity. Every movement is modelled based on actual martial art forms, every sound echoes a real-world counterpart, making it not just a battle game, but a genuine ninja experience.
In conclusion, The Last Ninja is not just another dominion in the kingdom of action games; it's an exhilarating ride that explores deep inside you; it's about honing celestial stealth, perfecting lethal moves, outsmarting intelligent enemies – it's about surviving as The Last Ninja.
Take up arms! Embrace the shadows! Begin your journey today with one of the best ninja games. Join millions already engrossed as they play to become The Last Ninja.
What are the best online games?
TAGS