Terrorist Shootout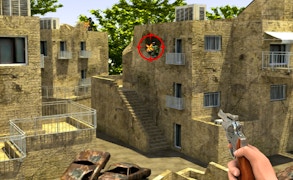 Terrorist Shootout
In the heart-thumping world of shooting games, there exists a monumental gem known as Terrorist Shootout. Earning its stripes in the realm of gun games and war games, this high-octane adventure puts you right in the thick of relentless action and invigorating combat.
You are thrust into the role of a valiant soldier, infiltrating an enemy town teeming with ruthless terrorists. Your mission? To eliminate a designated number of these adversaries and pave your way to the next level. Terrorist Shootout isn't just about shooting - it's a strategic blend of planning, precision, and power.
The adrenaline never stops pumping as you navigate through intricate alleys, eliminating threats while simultaneously protecting your own life. There's no room for hesitation in this high-stakes game - timing is everything. Your sniper skills will be put to the ultimate test as you engage in one of the most intense sniper games in recent memory.
Don't forget to upgrade your firearms after each level. This adds a captivating dimension of strategy that sets Terrorist Shootout apart from standard gun games. Whether indulging in close-quarters combat or testing your aim with long-range sniping, having an upgraded weapon by your side will ensure that you stay one step ahead of your enemies.
To anyone who carries a love for gun games or war games, or simply craves an electrifying encounter with sharp shooting action, Terrorist Shootout is a must-try experience. You'll find yourself coming back for more, eager to master each level and upgrade every gun available in this addictive shooting game adventure.
Your mission awaits – dare to take it on? Remember, this message will self-destruct in 10 seconds.
What are the best online games?