Temple Raider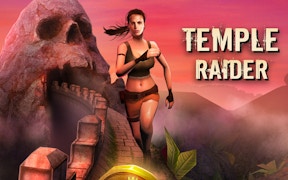 Temple Raider
Strap on your adventure boots and dive headfirst into the fast-paced, adrenaline-soaked world of Temple Raider. A standout entry in the running games and skill games genres, this game will certainly get your heart pounding as you navigate through a treacherous jungle maze, dodging obstacles and trying to shake off the irate temple guardian hot on your heels.
The gameplay of Temple Raider is as intense as it gets - with a perfectly crafted balance between nail-biting escape sequences and addictive treasure hunting. Imagine outrunning an angry guardian while keeping an eye out for shiny treasures. Yes, it's like having Indiana Jones adventures right at your fingertips!
This high-octane arcade style game drenches players in immersive ancient temple aesthetics while forging a path through perilous traps. By adding elements of strategy into its escape games mechanics, Temple Raider's challenge isn't just about running swiftly; it's about running smartly. Jump over razor-sharp spikes, slide under rapidly descending logs, timing is everything in this game - remember, hesitation could be fatal.
The graphics are commendably vivid. Each ruin is meticulously detailed to bring out the essence of ancient architecture – while the ambient sound design completes the enigmatic atmosphere of long-lost jungle temples.
In conclusion, Temple Raider is more than just a running game; it's an exhilarating thrill ride that tests players' speed and agility at every turn. A must-play for any fan of Action Games, this is one treasure hunting escapade you wouldn't want to miss!
What are the best online games?