Tank Strategy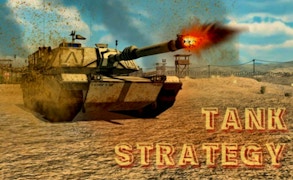 Tank Strategy
Are you a war game enthusiast? Do you get exhilarated when your pulse pounds with the intensity of artillery fire, tank battles, and helicopter assaults? If so, Tank Strategy, an action-packed strategy game that marries the thrill of gun games, the strategic depth of tank games, and the adrenaline rush of battle games should rank high on your play list!
This game catapults you into a world where strategic placement of tanks and judicious allocation of resources are key. On every level, you must meticulously plan your attack. Purchase tanks and fuel, station them at vantage points and launch an assault on your opponent. Remember, in this captivating action war game - the best defense is a well-planned attack.
The game forces you to be analytical yet decisive, pushing you to formulate strategies that can weather any enemy onslaught. It is a treat for those who love to have their tactical prowess tested. But there's more than just strategy here - there's also an undertone of pure, unadulterated action that will keep fans of helicopter games hooked.
Tank Strategy is not just another addition to the pantheon of tank games; it's an intriguing blend of action and strategy that stands out in the crowd. So gear up gamers - it's time to strategize, attack, win, and repeat in this astoundingly engaging war game! Prepare yourself for a ride filled with strategic battles that will keep you on your toes and make every moment count!
What are the best online games?