Tank Hero Online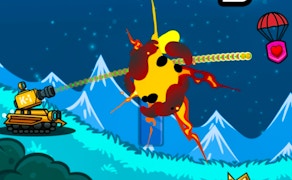 Tank Hero Online
Dive headfirst into the heart-pounding world of Tank Hero Online, a standout gem in the realm of action tank games and battle games. This high-octane game puts you in the driver's seat of a ruthlessly efficient tank, challenging you to annihilate your enemies and reign supreme on the battlefield.
You'll find yourself at the epicenter of non-stop action, dodging deadly bullets and launching your own punishing attacks. The battle is intense and calls for strategic maneuvers to outwit your cunning enemies. Every victory feels like a conquest as you destroy enemy tanks one after another, their metallic carcasses littering the battlefield in testament to your prowess.
The game's well-crafted level design, which boasts more than 100 exhilarating stages, keeps things fresh and exciting. Each level is not just a battle, but a strategic challenge that pushes you to devise innovative tactics. Fall in love with the adrenaline rush that each victory brings - it's intoxicating.
Intense as these battle games may be, Tank Hero Online never forgets the need for fun. The game spices up warfare with collectible power-ups that offer temporary advantages like boosted speed or increased firepower. There's nothing quite like the thrill of collecting coins scattered across the battlefield, then using them to upgrade your war machine with lethal new cannons, armor-piercing bullets, and impenetrable armor.
In Tank Hero Online, every moment is filled with drama and excitement. Whether you're a seasoned gamer or new to tank games, this action-packed experience will keep you coming back for more battles. So go ahead and jump into the fray – it's time to become the leadear in Tank Hero Online's world of explosive action!
What are the best online games?
TAGS