Tank Battle: War Commander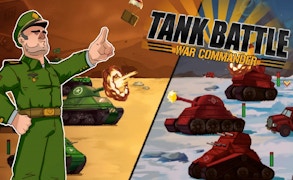 Tank Battle: War Commander
Dive headfirst into the frenzied battlefield of Tank Battle: War Commander, one of the highly engaging entries in the genre of tank games and war games. This empowering game thrusts you into a world teetering on the brink of destruction, where your tactical prowess and decisive action become the only hope for victory.
The addictive allure of Tank Battle: War Commander lies not merely in its explosive, adrenaline-fueled warfare reminiscent of some of the best battle games, but in its gripping strategic aspects. You're not just a soldier on the frontline; you are the commander-in-chief, marshalling your armed forces against an enemy bent on your nation's destruction.
As one of those cool games that blend mind-teasing strategy with heart-pounding action, Tank Battle: War Commander elevates itself above typical gun games. Your mission isn't simply to mow down endless hordes. Instead, you're tasked with conquering territories one by one, pushing back against a relentless foe until you claim final victory.
In each turn-based skirmish you'll need to commandeer massive weapons including tanks making strategic plays to outmaneuver your adversaries. This heightened sense of strategic depth injects each engagement with a thrilling sense of risk and reward.
If you have a penchant for combining gritty combat with high-stakes strategy, Tank Battle: War Commander is definitely worth your time. It takes tank games war games to another level blending in elements from battle games and gun games. And if you're shopping around for cool games that will keep you engaged for hours on end, look no further than this riveting war epic.
What are the best online games?