Tank Attack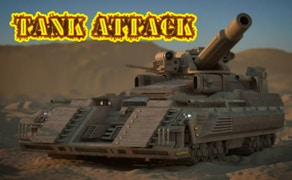 Tank Attack
Immerse yourself in the world of tank games with the maddeningly addictive play of Tank Attack. This is not just a game, it's a battle for supremacy, a quest for dominance amongst steel beasts. It's a symphony of destruction played on the battlefield.
Tank Attack stands as an epitome of great battle games. Here yours is not to reason why, yours is but to do or die. You're tasked with one simple mission - obliterate every enemy tank that dares to cross your path. Your health status is paramount - watch it, protect it, live for it!
The thrill begins as you trundle over the terrain, ready your weapon and embark on your warpath. The heart of the game lies in its armament variety. Go beyond simply trading fire with opponent tanks; unleash devastation with guns and machine guns that spit out death at blistering speeds. Or elevate your warfare tactics by raining down napalm bombs from the sky. Every shot fired, every explosion triggered in Tank Attack, elevates it to being one of the more intense gun games.
Strategy and timing are everything in this game. Hide behind impenetrable walls, waiting for that perfect moment to strike or make use of quick maneuvers to dodge incoming attacks – each decision could land you closer to victory or spell your doom.
The sheer adrenaline rush experienced while navigating this high-stakes battlefield is what sets Tank Attack apart from other tank games. With dangers lurking at every corner and victory hanging in balance - only those who adapt will survive.
To all you gaming gladiators seeking an exciting blend of strategy and action-packed gameplay - look no further! Tank Attack is the ultimate choice that promises endless hours of intense armored warfare.
What are the best online games?