Tank Alliance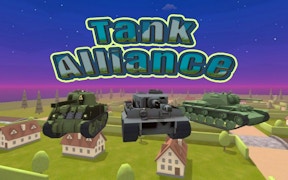 Tank Alliance
If the adrenaline rush of tank games is what you seek, prepare to be plunged into an immersive battlefield with Tank Alliance. As an Action genre aficionado, I can declare that Tank Alliance delivers a potent cocktail of driving games and war games elements, blended perfectly to give you a taste of spine-chilling tank battles.
Anchored in a breathtakingly realistic 3D environment, Tank Alliance doesn't just let you drive tanks but pushes you smack into the heart of riveting battles. The AI system gives life to both friendly and enemy armored vehicles, transforming the game from a simple war simulator to a gripping dance of strategy and survival. Each tank mission asks for something different from you - one moment it's a ruthless pursuit, next it's a desperate race against time.
An intriguing feature that sets Tank Alliance apart from regular action driving games is its destructible environment. It amplifies the chaos and rawness of battle games and demands your utmost attention. Get ready to strategize not just against your enemies but also against your environment.
The game encompasses seven different tank missions, each one strategically designed to bring out the strategist in you. Speed, teamwork skills, quick thinking, each mission tests your battle instincts on various fronts. Whether it is corralling a formidable enemy or synchronizing with your allies for swift attacks, every mission has its unique thrill.
In conclusion, if you're itching for an action-packed experience that packs in elements from tank games, battle games, driving games and war games all into one explosive package - look no further than Tank Alliance. It's time to gear up and dive headlong into the ravages of war!
What are the best online games?