Tactical Weapon Pack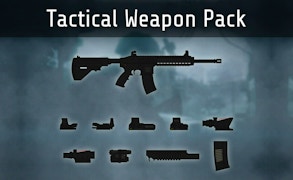 Tactical Weapon Pack
Unleash your true marksman prowess in the exhilarating world of Tactical Weapon Pack, a masterpiece among the multitude of gun games and sniper games out there. This game is not just about pulling the trigger; it's a comprehensive test of your skill, strategy, and accuracy.
Tactical Weapon Pack grants you access to an arsenal of over 50 hyper-realistic weapons and attachments. This isn't merely a shooting game; it's an immersive journey into the adrenaline-fuelled world of precision shooting and tactical decision-making. Once you've selected your weapon from this impressive lineup, prepare yourself for four fast-paced, high-stakes game modes that will push your skills to their limits.
The RANKED MODE sets the stage for global competition as it lets you submit your scores to worldwide leaderboards. Not only does this mode test your prowess in shooting, but it also rewards you with new weapons, attachments, and XP for displaying exceptional accuracy and skill under pressure.
If it's practice you crave before diving into the competitive fray, there's a detailed FIRING RANGE. This feature allows you to select any weapon of your choice and blast away at custom targets. This perfect blend of challenge and training makes Tactical Weapon Pack stand out in a crowded field of Skill Games.
In conclusion, Tactical Weapon Pack delivers on every front - be it graphics, sound effects, controls or gameplay mechanics. Its unique focus on both competitive shooting and practice modes gives gamers an engaging and fulfilling gaming experience. It doesn't matter if you're a casual gamer who enjoys gun games or a hardcore sniper enthusiast; Tactical Weapon Pack is bound to bring out the sharpshooter in everyone.
What are the best online games?