T-Rex Running Color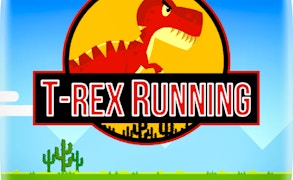 T-Rex Running Color
Description
In T-Rex Running Color, the player enters a thrilling, high-speed adventure. A cute yet fierce T-Rex needs your help to navigate a landscape filled with danger. Evade cacti and surprise attacks from sneaky pterodactyls, all while the game accelerates making every step fraught with danger. Test your reflexes and stamina in this fast-paced running game.
How to play
The game's mechanics are simple enough for all ages. Use your keyboard's up arrow key to jump over cacti and the down arrow key to duck under flying pterodactyls. The longer you survive, the faster your T-Rex runs. Help the dino navigate hazards and reach new distances in his run!
Tips and Tricks
Maintain a sharp eye on upcoming obstacles—quickness is key here! Remember, jumping consumes more time than ducking; use it strategically. It's essential to adapt your reflexes as the speed increases over time.
Features
Exciting running gameplay featuring a lovable T-Rex.
Evolving difficulty as your T-Rex run becomes faster overtime.
A colorful environment that changes as you progress through the game.
An engaging score system that challenges you to beat your own records!
What are the best online games?