Merge Master: Dinosaur Fusion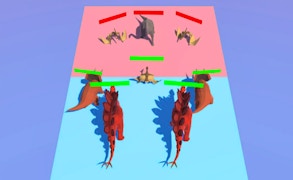 Merge Master: Dinosaur Fusion
Welcome, game enthusiasts! Step into the world of Merge Master: Dinosaur Fusion, an enthralling entrant in the realm of battle games that blends strategy, evolution, and raw prehistoric power. If you've been combing through the terrain of dinosaur games seeking a harmonious fusion of combative action and intellectual stimulation, your search ends here.
At its core, Merge Master isn't just about brute force. It's an intricate dance of strategic placement and smart amalgamation. Each round begins with you outfitting your dinosaur squad in formations destined for victory. Herein lies one of the game's most captivating draws - it's not just about what dinosaurs you have, but how you use them. Boldly etching its mark in the roster of brain games, this title demands careful thought and cunning tactics to emerge victorious.
In this battlefield, it's not just you against your AI adversary. It's your planning prowess against theirs. Both sides are equipped with the same dinosaur types but the outcomes are anything but identical. This is because Merge Master smartly limits enemy formations, pushing you to use logic and creativity to win with as few resources as possible.
Fans of simulator games will also find plenty to love here. The 3D arenas provide an immersive backdrop to unleash your beasts on, and the lifelike animations keep you rooted in every moment of combat.
In conclusion, Merge Master: Dinosaur Fusion truly stands out in the broad ecosystem of battle games - a cerebral brawler that challenges not just your reflexes but also your wits. Strap on your battle gear, fortify your formations and let loose your dinosaur army in this thrilling simulacra of prehistoric warfare.
What are the best online games?