Dino Squad Adventure 3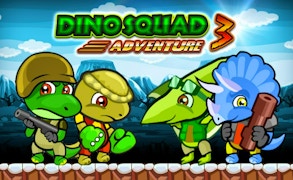 Dino Squad Adventure 3
Welcome to the thrilling atmosphere of Dino Squad Adventure 3, a game that raises the bar for dinosaur games as well as animal games. This title, specifically designed for our young games for kids community, transports us to an exhilarating world filled with gold-collecting escapades and monster-busting adventures.
With Dino Squad Adventure 3, we move beyond traditional game settings. The narrow confines are replaced with extensive areas, providing a variety of settings and challenges that kids will find both fun and stimulating. These vast spaces make for a unique gaming experience that sets the tone for the next generation of dinosaur games.
The beauty of this game doesn't stop at the setting; it extends into its cooperative play feature. Offering a rare chance in the realm of 2 player games, Dino Squad Adventure 3 encourages children to work together and strategize. This aspect of the game significantly contributes to its standing among animal games, cultivating teamwork and cooperation among its young players.
This time around, your trusted dino squad is venturing on an entirely new journey. With gold at every corner and monsters popping up when you least expect them, Dino Squad Adventure 3 succeeds in delivering an exciting, multi-player adventure that keeps you on your toes from start to finish!
In summation, Dino Squad Adventure 3 revolutionizes the world of dinosaur gaming by bringing together an energetic adventure narrative with cooperative gameplay. An ideal choice for those looking for exciting games for kids or fun-filled 2 player games. Let's strap on our imaginative helmets and jump right into this dino-tastic adventure!
What are the best online games?