T-Rex Runner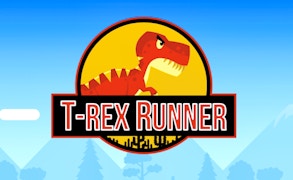 T-Rex Runner
If you're in search of action-packed running games with a prehistoric twist, then let me introduce you to the thrilling world of T-Rex Runner. Jam-packed with adrenaline-inducing chase sequences, this is an exhilarating addition to the roster of dinosaur games. It's time to outpace extinction and put your reflexes to the test in this audacious escape game.
T-Rex Runner offers an exciting gameplay dynamic that centers around a simple directive - jump and avoid all of the obstacles. But don't let that simplicity fool you. This game will keep your heart pounding and fingers twitching as you navigate your T-Rex through an obstacle course designed to challenge even the most seasoned gamers. Whether it's leaping over yawning chasms or ducking under low-hanging branches, each second in T-Rex Runner is a fight for survival.
The action never ceases in this high-octane blend of speed and strategy; not only do you need swiftness, but also foresight. The difficulty curve rises steadily, ensuring that players remain engrossed, always pushing for that elusive high score. T-Rex Runner successfully incorporates elements from dinosaur games, running games, and escape games, blending them into one unforgettable package.
T-Rex Runner is more than just another entry into the realm of dinosaur games—it's a testament to how pure simplicity when paired with action-fueled gameplay can result in a truly spectacular gaming experience. If you have a need for speed and quick reflexes, T-Rex Runner could be your next gaming obsession.
In conclusion, if you enjoy action-oriented running games with an intriguing prehistoric touch, then T-Rex Runner should be on top of your list. Get ready to outrun extinction and turn up the heat on your gaming sessions!
What are the best online games?