Sushi Supply Co.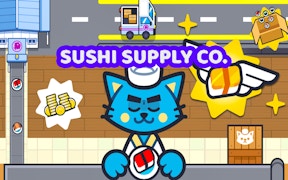 Sushi Supply Co.
Take control and swim deep into the immersive depths of Sushi Supply Co., a remarkable amalgamation of restaurant-games and money-games. It's an enticing haven for gamers with a penchant for management games, offering an engaging blend of strategic tycoon games with the addictive, rhythmic pace of familiar clicker games.
Sushi Supply Co. reinvents the classic genre of idle games, ferrying you into the fascinating world of sushi making. This charming Kitty Chef invites you to build your own sushi empire from scratch – serving up not just delectable sushi but also a rich, rewarding experience with its smooth gameplay mechanics, intuitive interface and vibrant visuals.
Cleverly designed to cater to both casual players and serious strategists, it's one of the standout restaurant management games on the market today. The game's pursuit is simple: more sushi served equates to more money made. Yet it weaves this premise into an intricate dance of supply and demand that will test your entrepreneurial mettle.
Sushi Supply Co.'s lively character design gives life to a whimsical cast of characters - from quirky customers to the tenacious Kitty Chef itself. The quick-fire progression of this game powered by strategic decisions gives it a refreshing pace unlike other traditional idle-games.
The allure truly lies in ascending from humble beginnings to Sushi tycoondom. Sushi Supply Co.'s gameplay unfolds gracefully over time, mirroring the addictive satisfaction akin to other popular clicker-games.
In conclusion, Sushi Supply Co. promises not just hours, but days of entertainment. It's a dazzling gem in the ever-expanding universe of strategy gaming that masterfully combines elements of restaurant games, money games and tycoon games with surprising little twists and turns that keep you hooked. If you're a fan of management or idle games, don't miss this serving of Sushi Supply Co.
What are the best online games?