Rails and Stations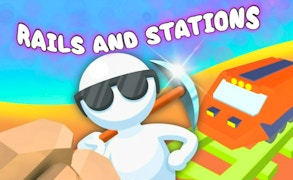 Rails and Stations
Welcome to the world of Rails and Stations, a new free game that combines the most intriguing elements of stickman games, building games, mining games, money games, idle games, and tycoon games. In this immersive gameplay experience, you're not just any gamer, you are a tycoon, responsible for the creation of an ever-growing empire.
This clever combination of city building games and resource management mechanics ensures endless hours of fun. The game allows you to explore your virtual environment while harvesting resources like wood, iron, sand, and even watermelons! Allowing you to embrace your inner prospector in a quest to amass great wealth.
The smart trading system in Rails and Stations adds another layer of strategy to this compelling gameplay design. You can trade timber and iron for crucial rails for your burgeoning railroad network or sell your excavated resources at different stations to get money – making this mining simulator a cut above the rest. The game impressively employs money game mechanism where currency fuels progress, ensuring players are always engaged and motivated.
In Rails and Stations, efficiency is key. Hire helpers to speed up resource gathering and use dynamite as a swift solution to clear paths for your majestic trains. Expand your dominion by exploring more areas on your island - who knows what riches await?
In essence, Rails and Stations has successfully married elements from tycoon games, building games, stickman games into one cohesive package – all while maintaining an easygoing sense of play typically found in idle games. It's an addictive concoction that fans of city building games will undoubtedly appreciate.
The challenge is clear - can you build the most profitable railway empire in Rails and Stations? Only one way to find out!
What are the best online games?