Surviving in the Woods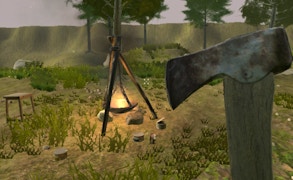 Surviving in the Woods
Charting a thrilling course through the untamed wilderness, Surviving in the Woods takes the very essence of survival games, and infuses it with an action-packed stratagem that keeps you on the edge of your seat. A captivating amalgamation of exhilarating skill games and intense sword games, Surviving in the Woods carves its own niche in the gaming world.
The game thrusts you into a beguiling forest where your only companion is survival instinct, and your only tool - an unyielding axe. From this austere starting point, Surviving in the Woods blossoms into an absorbing journey that tests your abilities at every turn. Every tree chopped, every shelter built escalates this thrilling narrative in a world where danger lurks at every corner.
Your mission? Survive through day and night using the rudimentary WASD or arrow keys for movement, space bar to make that leap of faith, Shift to traverse through timber fast like a prowling predator, E to pick up items that may be your saving grace, R to drop what doesn't serve you anymore, Left mouse button to construct or fell trees that are both obstacle and saviour, and Esc/P when you need that breather.
This game is a masterstroke for building games enthusiasts who love weaving their own tale of survival. The day forest gives you respite while the night forest challenges you beyond measure. The immersive interface complete with riveting visuals catapults you into an uncharted territory of perilous excitement.
In conclusion, Surviving in the Woods is not just about enduring but thriving in a relentless environment with sharp strategy and rapid response. The gameplay challenges and rewards at equal measure making it a must-play for adrenaline junkies out there. Prepare to take survival gaming to another level.
What are the best online games?