Supra Crash Shooting Fly Cars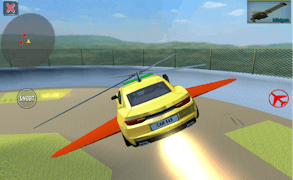 Supra Crash Shooting Fly Cars
Fasten your seatbelts, gamers, for the adrenaline-fueled experience that is Supra Crash Shooting Fly Cars. This game successfully merges tags of car games, drifting games, driving games, flying games, gun games, and battle games to create an action-packed environment where there's never a dull moment.
The multiplayer mode of this action-packed game sets it apart. It delivers a high-octane experience where you can engage in vehicular warfare with friends from around the globe. The thrill of destroying your pals' cars to accumulate wealth and upgrade your armor is absolutely intoxicating. But the excitement doesn't end there; you also get to switch out your speed car, alter its color, and customize its wheels; pretty much everything an enthusiast of car games could ask for.
If drifting is more your speed, then the drifting mode will keep you on the edge of your seat. This is not just another one of those run-of-the-mill drifting games. Here, you need skills and precision as you deftly maneuver through challenging terrains and hairpin bends.
In addition to all these ground-level exploits, Supra Crash Shooting Fly Cars takes the excitement skyward with its innovative flying mode. It's a unique fusion that blends elements from both flying games and battle games.
You're not just racing through the skies; you're also engaged in aerial gunfights that are sure to get your blood pumping. And if battling friends isn't enough, there's always enemy AI waiting in offline mode for those who want a solo adventure. A flawless combination of driving games, gun games, and battle games,
To sum it up - whether it's racing, drifting, flying or battling - Supra Crash Shooting Fly Cars has something for every gamer out there. So why wait? Dive right into this ultimate gaming paradise!
What are the best online games?