Supermarket Expert Idle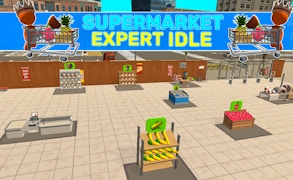 Supermarket Expert Idle
Description
Welcome to Supermarket Expert Idle, a captivating idle game where you step into the role of a supermarket manager. Start from scratch, build your dream supermarket, generate substantial income, and turn into an industry tycoon. As customers flood in daily, it's your job to fulfill their needs and make profits. Expand your supermarket by adding new departments for greater variety and revenue.
How to Play
The controls are quite simple and intuitive, suitable for gamers of all ages. You can move around using the "Arrow Keys", "W,A,S,D" keys or by using the "Mouse" and "Left-Click". The objective is to pick products from their sources or production places, place them in their respective departments, then monitor customer checkouts at the counter to earn money.
Tips and Tricks
To maximize your earnings in Supermarket Expert Idle, be sure to frequently check the upgrades menu and invest in those that increase productivity or customer satisfaction. Also, don't hesitate to hire helpers when necessary; they speed up operations significantly!
Features
A captivating idle game with straightforward mechanics.
Management gameplay that requires strategic planning and resource allocation.
In-game upgrade system for improving supermarket efficiency.
Possibility of expansion with new departments for diverse inventory and increased profits.
Engaging gameplay with regular customer interactions.
What are the best online games?