SuperHero League Online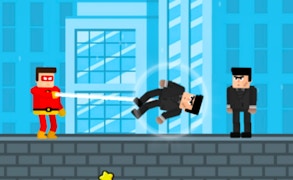 SuperHero League Online
Dive into the dynamic world of SuperHero League Online, a high-octane action game that brilliantly meshes popular gaming themes – battle games, stickman games, and gangster games – into an electrifying gaming experience like none other.
From the moment you start the game, you're thrust into a universe where peace hangs by a thread and superheroes are the sole hope against overwhelming odds. True to its tag of being a top-tier battle game, SuperHero League Online allows you to choose your character from an array of options, each one pulsating with unique superpowers and assertive personalities that will have your pulse pounding.
What sets this game apart from your average stickman games is the thoughtfully designed levels featuring intricate strategies and an infusion of raw power. Here, your superpowers aren't just gimmicks; they're integral parts of gameplay. Fling enemies against walls with god-like strength, slice through adversaries with razor-sharp arrows or paint chaos across levels using strategically tossed bombs- every moment pulsates with adrenal excitement.
Don't mistake this for your run-of-the-mill gangster games. This game carries an underlying layer of cerebral challenge where you need to strategize around saving hostages even as you unleash carnage on villains. You might need to manipulate objects, push barriers or devise inventive ways to outfox the bad guys – adding layers to the gameplay that will keep you hooked.
The thrill continues through 4 meticulously crafted worlds each presenting unique challenges designed to test your superhero mettle. With every completed level, you inch closer towards joining the fabled league of superhero champions.
In essence, SuperHero League Online provides a deliciously unique blend of stickman artistry paired with absorbing gameplay elements often seen in battle and gangster games. It's sure to resonate with gamers looking for their next action-packed adventure!
What are the best online games?