Super Robo Fighter 2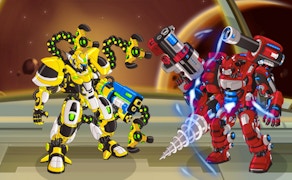 Super Robo Fighter 2
Welcome gaming enthusiasts, adrenaline junkies and robot lovers alike to our review of one of the most electrifying robot games on the market: Super Robo Fighter 2. Whether you're fanatical about frenzied fights or sensational and immersive battle games, this electrifying epic is sure to whet your gaming appetite.
No more waiting around for the action to start, Super Robo Fighter 2 thrusts you directly into an invigorating world of robotic warfare where every second counts. The game offers a unique blend of fast-paced assembly tasks coupled with intense bouts of action. Your mission? Assemble your robot as swiftly as possible and get ready for battle. The speedier your assembly time, the greater your edge on the battlefield.
Super Robo Fighter 2 is not just about how quickly you can piece together your mechanical warrior, but it also tests your strategic prowess in the heat of combat. This is where it truly shines amongst other gun games. The super weapons at your disposal are not just for show - how and when you use them could be the difference between sweet victory or a bitter defeat.
The added bonus? You can share this thrilling experience with a friend in 2 player mode. Invite a partner for some friendly competition or team up against common foes making Super Robo Fighter 2 a great social gaming experience.
All in all, whether it's the adrenaline-fueled battles, intense strategizing, super weapons usage or rapid robot assembly that gets your gears grinding, Super Robo Fighter 2 delivers an unforgettable experience on all fronts. This game is a must-play for fans of fast-paced action, riveting robot warfare and strategic battle games.
What are the best online games?