Super Huggie Adventure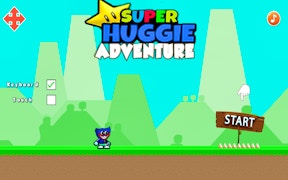 Super Huggie Adventure
Description
Embark on an exhilarating journey with Super Huggie Adventure. This is not just another platformer game. It allows you to explore mysterious islands, overcome challenging obstacles, and combat ferocious monsters to reach the coveted treasure. The game is set in a perilous realm where each level is a thrilling expedition filled with unexpected twists, quirky power-ups, and lots of coins!
How to play
Super Huggie Adventure is easy to play yet hard to master. Use the arrow keys to run and jump over obstacles. The spacebar can be used to fight off monsters. Your main task is to navigate through the levels while collecting coins and destroying blocks in order to find keys that open gates. Keep in mind! Every level requires completion before proceeding to the next.
Tips and Tricks
In Super Huggie Adventure, timing is everything! Study your enemies' movement patterns, it will help you defeat them smoothly. Collect all available coins in each level but don't rush! Guard your lives carefully as they're limited. Keep an eye out for power-ups as they can give you extra lives or invincibility power!
Features
The game offers many exciting features such as:
Detailed pixel-art graphics.
A large variety of levels for endless fun.
Variety of challenging enemies.
In-game power-ups and bonuses.
An engaging storyline filled with adventure and excitement.
What are the best online games?