Super Escape Masters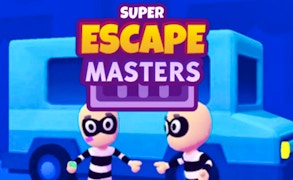 Super Escape Masters
Immerse yourself in a world filled with adrenaline-pumping thrill and relentless action, in the heart-pounding game, Super Escape Masters. This game is a refreshing addition to the realm of escape games, offering a unique blend of strategic planning, quick reflexes, and suspense that will keep you on your toes.
As one of the most engaging running games out there, Super Escape Masters perfectly captures the essence of the genre. The game gives you a clear objective: break free from prison and save your friends along the way. Surviving isn't easy - you must outsmart guards, navigate through traps and avoid fatal obstacles. With 24 thrilling levels filled with spikes, explosives and more, every moment is a test of your mettle.
A standout feature in this formidable game is the underground scenes. The realistic graphics create an immersive environment that adds an extra layer of intensity to your escape. Plus, the collection mechanic - gathering gold and keys – injects an exciting layer of complexity into this hyper-casual game.
The real magic lies within its core gameplay mechanics – it's all about digging the right path towards freedom without getting caught or killed. You'll find yourself frantically devising strategies to surpass obstacles whilst coordinating with other inmates – all against a ticking clock.
In conclusion, Super Escape Masters breathes new life into the genre of escape games and running games with its fast-paced nature and remarkable sense of urgency. Its clever blend of strategic gameplay mechanics and tense atmosphere results in an experience that's both captivatingly fun and incredibly challenging.
What are the best online games?