Super Chicken Fly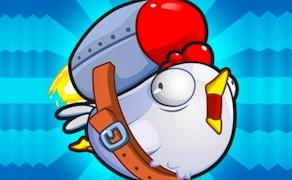 Super Chicken Fly
Welcome to the wacky, feathery world of the Super Chicken Fly, an action-packed extravaganza sure to make your heart flutter with excitement. This exhilarating addition to the realm of animal games takes the concept of flying games and skill games to whole new heights, literally.
In Super Chicken Fly, you play as a plucky little hen armed with nothing more than courage and a knack for propulsion. The aim is simple: kick your chicken into flight and soar across vast farm landscapes, dismissing gravity as a mere suggestion. But don't mistake simplicity for ease, this game demands quick thinking and strategic timing - trademarks of the battle games genre.
The key to success in this quirky game? Skillfully bounce your feathered friend against diminutive farm animals to gain speed and power. But beware; dangerous objects lurk around every corner, ready to transform your high-flying adventure into a feathery apocalypse.
Coin collection adds yet another layer of strategic depth to this already complex game. Use your hard-earned currency wisely at the shop to upgrade various aspects of your gameplay strategy: kick power, fly speed, bounce rate, and resistance are all crucial variables that can mean the difference between poultry victory or defeat.
Super Chicken Fly, available exclusively at kiz10.com, is a feather-ruffling extravaganza that effortlessly combines elements from different gaming genres - animal games, flying games, skill games, and battle games - into one seamless, enjoyable experience. Players seeking a fun-filled distraction or hardcore gamers chasing their next challenging conquest will find plenty to love here!
What are the best online games?