Subway Surf Halloween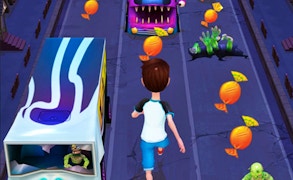 Subway Surf Halloween
Are you ready to immerse yourself in the thrill of an arcade running game like no other? Subway Surf Halloween takes you on a terrifying journey through a city transformed. With its unique combination of arcade action and spine-chilling horror, it is sure to keep you on your toes.
You awake one day to find that everything you know is different. The everyday scenes of your city have taken on a spooky twist, with ghosts and zombies at every corner. This isn't just your everyday running game - it's a test of survival. It begs the question: would you fight or would you flee? As they say, discretion is the better part of valor, so we recommend a hasty retreat.
Subway Surf Halloween, as one of the latest additions to the running games genre, surprises gamers with its exciting gameplay and hauntingly good graphics. Run as fast as you could, dodge obstacles, and make quick decisions as monstrous beings chase you through the eerie streets.
The adrenaline rush won't let up for even a second in Subway Surf Halloween. The blend of fast-paced action and supernatural horror sets it apart from other running games. Its addictive gameplay will keep you coming back for more, making it an excellent choice for enthusiasts seeking something fresh in arcade gaming.
Subway Surf Halloween brings out the true spirit of Halloween – combining fright with delight by mixing high-speed gaming with chilling horror themes. Its appeal lies in its simplicity yet challenging gameplay that will captivate both casual and hardcore gamers alike.
In conclusion, if thrill-seekers want a dash of fear mixed with their love for running games, then Subway Surf Halloween should undoubtedly be their game of choice this spooky season.
This game is not just about outrunning terror but also testing your reflexes and decision-making skills under pressing circumstances. So gear up people; let's get those heart rates soaring!
What are the best online games?