Stupid Zombies 2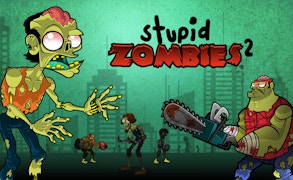 Stupid Zombies 2
What's a good zombie story without a fitting sequel? Well, the undead madness doesn't stop in Stupid Zombies 2, the latest addition to the high-stakes world of zombie games. This game catches you in its cold, deathly grip with its mindless creatures, and before you know it, you're more hooked than a maggot on a corpse.
The game is packed to the brim with exciting weapons, brain-boggling puzzles, and dark, moody environments that wrap up into a slick, player-friendly package. If you thought gun games were always the same old shoot-and-cover affair, then Stupid Zombies 2 might just blow your mind like an well-placed shotgun blast.
'But you can't kill what's already dead!', I hear you cry out. Even though that's technically true (bravo for your undying wisdom), it sure does feel good firing bullets into the endless horde of these angry walkers. It's just you vs zombies here. That's right - no team, no backup. Just how we like our post-apocalyptic scenarios.
Your mission? To halt these never-ending waves of undead before you run out of ammunition. Sounds simple on paper - but when you're playing one of the best zombie games on the market today, it isn't as easy as blowing off a walker's head from point-blank range.
We challenge your survival instincts while you maneuver through levels filled with explosive barrels and zombie hordes all vying to make mincemeat out of your character. They say practice makes perfect — well, with Stupid Zombies 2 your aiming skills will be put to the test.
In conclusion, if zombie shooters are up your alley (or cemetery), then make sure to check out Stupid Zombies 2 - now more deadlier and action-filled than ever before!
What are the best online games?
TAGS