Stupid Zombies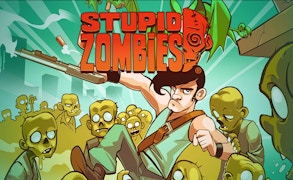 Stupid Zombies
If there were an Oscar for zombie games, Stupid Zombies would be a strong contender. Combining the thrill of gun games with the undead menace, Stupid Zombies provides a unique blend of excitement and challenges. One man, one shotgun, and countless brain-guzzling ghouls – it's all about survival and wit in this engrossing gem of a game.
The captivating tagline sets the tone: "You are humanity's last hope, and it's your job to keep them brainless." With that in mind, you'll find yourself immersed in this thrilling zombie-hunting expedition. Utilize your gunning skills to obliterate the walking dead by adjusting your shots and angles. Watch with satisfaction as your bullets ricochet off walls, elegantly picking off each zombie limb by limb.
Stupid Zombies boasts over 360 challenging levels spread across four giant stages with an exciting zombie theme. The simple yet innovative ricochet based gameplay promises hours of nail-biting fun, forcing you to defeat these stupid zombies using nothing but brains and ingenuity. A twist in conventional zombie games, Stupid Zombies challenges not only your aim but also your strategy.
Realistic physics adds another level of authenticity to the game – bullets fly true to their trajectory, and zombies react as they would if physics applied to the undead. On top of that, Stupid Zombies has a fantastic soundtrack that perfectly complements its spooky undertones and heightens the tension just when you need it.
In conclusion, Stupid Zombies is not just another entry into the seemingly overflowing pool of gun games. It stands out with its unique take on shooting tactics and engages you right from the word go. For all fans of gripping zombie games, this is one title that's well worth sinking your teeth into!
What are the best online games?
TAGS