Straw Hat Samurai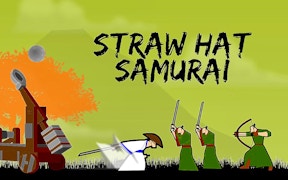 Straw Hat Samurai
Immerse yourself in the realm of feudal Japan with the gripping Action game - Straw Hat Samurai. It's not just a game, it's a blood-rushing journey through an age of chaos and warlords. Laden with intense sword combat and strategic battles, this game is one to look out for all sword games, ninja games, battle games, and war games enthusiasts.
A call to arms for all warriors of courage! The northern Aka-Ryu army is hell-bent on expanding their territory southwards. As if drawn from the pages of history, you'll find yourself in charge of defending your forts that are under dire siege. This isn't just another day; it's a decisive moment where every slash counts!
The dynamic gameplay plunges you into the very heart of the action. You're no longer an observer; you are the last line of defense in an epic battle between good and evil. Slice your way through wave after wave of adversaries, in this mesmerizing blend of swordplay and strategy.
The desolate landscapes that form the backdrop only add to the immersive experience, pulling you deeper into this tumultuous era. With its stunningly detailed graphics and visceral combat sequences, Straw Hat Samurai stands parallel to some of the best titles in war games.
The gripping storyline, fierce battles, intricate map designs make Straw Hat Samurai more than just a game- it's a window into an unforgettable epoch replete with action and drama. In conclusion, if you're an enthusiast of sword games or ninja games or battle games or war games or simply love action-packed gameplay with a compelling narrative- Straw Hat Samurai is an offering you can't afford to miss.
In this interactive realm where pencils become swords and imagination knows no bounds, unleash your inner warrior with Straw Hat Samurai!
What are the best online games?