Stickman Team Force 2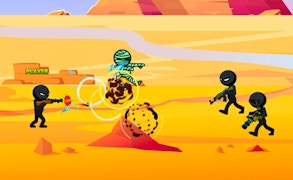 Stickman Team Force 2
Marvel at the unanticipated thrill brought by the enthralling and dynamic addition to the action genre, Stickman Team Force 2. This is not your average stickman games or gun games that you've played countless times. Let's plunge into this meticulously crafted world of daring mission in the intense deserts of Egypt and bravely face this exhilarating adventure head-on.
If you're a zealous devotee of battle games, the proficiently designed gameplay mechanics in Stickman Team Force 2 will have you hooked for hours. You're no longer a lone wolf, but a part of an elite team led by Jacky, as he steers his comrades to undertake this exciting mission. Alongside him are his trusty allies: Jim - the marksman known for his unerring accuracy and Joe - recognized for his audacity in safeguarding the team.
This stickman game is an embodiment of gripping tension and relentless action, amalgamated with elements borrowed from zombie games. The wicked spell has stirred evil monsters from their slumber, instigating them to set out on a conquest to dominate the world. As you navigate through this deadly gauntlet, your goal is clear - obliterate all opponents that cross your path.
Play Stickman Team Force 2 now on kiz10.com and let this stimulating action-packed experience entertain you for hours! Conquer every level, revel in the thrill of the battles, and become completely engrossed in this enthralling stickman saga. As you strategize your moves and coordinate with your team to crush every foe that stands on your way, it's undeniable that Stickman Team Force 2 sets a new high bar in delivering an exceptional gaming experience like never before.
In conclusion, whether you're an avid gamer seeking out-of-the-box action or a fan of stickman games yearning for heart-racing adrenaline rush, Stickman Team Force 2 is undeniably worth checking out!
What are the best online games?