Stickman Rusher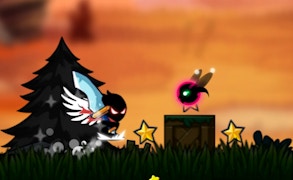 Stickman Rusher
Immerse yourself in the epic and thrilling world of Stickman Rusher, one of the most captivating sword games that takes the genre of action to another level. This game offers a spine-tingling fusion of intense swordplay and exhilarating action, setting new standards for stickman games.
The main protagonist is a fearless, sword-wielding stickman who dares to battle a legion of dark enemies imbued with explosive powers. Your mission is simple: guide this bravest warrior through treacherous battlefields, help him leap across hazardous obstacles, and assist him in his ultimate showdown with the Final Boss who harbors an insidious plan to devastate the world.
Stickman Rusher is no ordinary action game; it's a testament to true Skill Games. With each victory over enemies, you unlock a multitude of enticing rewards and earn Kizkoins. The one who amasses the highest points will climb up the leaderboards and claim supremacy over all other players in this adrenaline-fueled stickman fighting game.
The detail-rich environment, coupled with addictive gameplay mechanics makes Stickman Rusher an indispensable addition to your gaming arsenal if you are seeking a high-stakes action experience. This game reaffirms why players around the globe adore kiz10.com games, offering a perfect blend of non-stop action and enthralling storytelling set within a stickman universe.
In summary, Stickman Rusher is more than just another entry into action or stickman genre. It is an all-out war against darkness where only your skills can ensure victory. So get ready to dive in this riveting journey at kiz10.com – your one-stop destination for free online games!
What are the best online games?