Stickman Party Parkour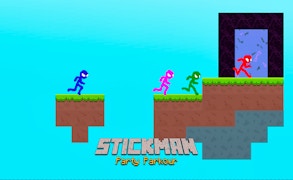 Stickman Party Parkour
Description
In Stickman Party Parkour, you step into a world of thrilling, edge-of-your-seat entertainment with up to 4 friends. Participants are divided into two groups, each tasked with guiding their characters to the exit. However, your journey is fraught with treacherous precipices and deadly barriers. The aim is for all players in a group to successfully navigate the level, reach the door, and progress further.
How To Play
The game demands excellent coordination and strategic planning. Control your character using the arrow keys or WASD keys. Make sure that you not only avoid falling off the cliff but also steer clear of potential obstacles that can eliminate you from the game. The overall goal is for everyone in your group to arrive at the exit door safely.
Tips and Tricks
Always be on guard; awareness is key in this adventure. Look ahead to spot upcoming obstacles and plan your moves accordingly. Working together with your friend will get both stickmen to the door faster and more efficiently. Remember, speed isn't everything - sometimes patient navigation can be the key to success.
Features
Multiplayer adventure: Experience team-based gameplay with up to four friends.
Persistent danger: Fight against challenging obstacles and unforgiving cliffs.
Intriguing levels: Every stage presents unique challenges requiring strategic planning and cooperation.
Vibrant pixel graphics: Captivating stickman-designs set against creative environments.
What are the best online games?