Stickman Killer Top Gun Shots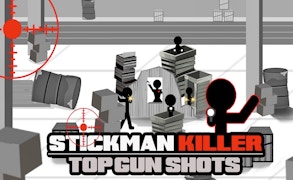 Stickman Killer Top Gun Shots
Immerse yourself in the intoxicating world of Stickman Killer Top Gun Shots, a flagship title in the realm of shooting genre and skill games. There's nothing that satiates the thirst of a true gaming aficionado better than an adrenaline-pumping clash between your wits and the game's relentless AI. This delightful amalgamation of gun games and stickman aesthetics is designed to test your prowess, precision, and perseverance.
Crafted with stunning attention to gameplay fluidity, Stickman Killer Top Gun Shots catapults you into a landscape filled with danger at every turn. The landscapes are soaked in tension as you strive to take down your nefarious opponents. Every shot fired, every tactical decision made, affects the balance of power, challenging your mettle as a top gun.
This game takes pride in its challenging coteries of snipers that push you to concoct creative strategies to survive. Armed with deadly aim and malicious intent, their big boss is always lurking around—ready to put an abrupt end to your spree with a bullet straight through your head.
In this stirring blend of skill games and brutal combat, mercy should be left at the doorstep! To stand victorious amidst the chaos you must forge a path paved with the bodies of your enemies. It's either kill or be killed.
Stickman Killer Top Gun Shots perfectly marries intense action gameplay with the gritty charm of stickman games. While it might seem like an uphill battle at first glance, the satisfaction derived from conquering tricky foes makes it all worthwhile. So gear up gamers; it's time to lock and load!
What are the best online games?
TAGS