State of Zombies 3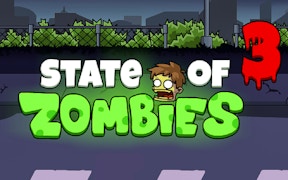 State of Zombies 3
Welcome to our latest game review where we dive deep into the blood-curdling, zombie-infested world of the lauded State of Zombies 3. As part of our ongoing series covering gun games, battle games, and especially zombie games, this standout title is a thrilling addition to any shooter fan's library, packing a punch in both its action and its arsenal.
In the very heart of the game's appeal are its diverse 40 weapons. State of Zombies 3 provides a colossal armory that transforms every battle into an exhilarating experiment. Whether you're a sniper picking off foes from afar in classic sniper games style or prefer getting up close for visceral carnage, there's a tool for every tactician here.
If you're looking for more than just weapons, State of Zombies 3 has you covered with an array of characters and gadgets to choose from. With four unique characters available, your playstyle can shift dramatically from one game to another - keeping things fresh and engaging. The inclusion of various gadgets equally adds flavor to the battles by enabling different strategies in taking down your undead foes.
No stone was left unturned when it comes to delivering adrenaline-pumping action. Every skirmish with the horde is a sea of blood waiting for you, pushing you to your limits as wave after wave tests your mettle.
In conclusion, State of Zombies 3 brings together all the elements we love about gun games, battle games, and zombie games. With an impressive arsenal, diverse characters, innovative gadgets, and non-stop zombie-slaying action it rightfully earns our seal of approval as a must-play title for any fan of shooting genres.
What are the best online games?