Starship Troopers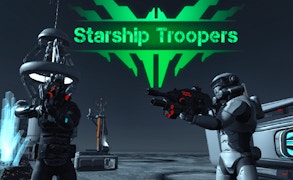 Starship Troopers
Description
In Starship Troopers, you assume the role of an intrepid trooper soldier, tasked with purging a lunar base of hostile forces. Equipped with a versatile arsenal of firearms including pistols, machine guns, shotguns, rocket launchers, and a flamethrower. Your primary objectives are survival, elimination of enemies, and gathering essential supplies such as medicines.
How to play
Gameplay is centered around navigation and combat within the moon base. Use your keyboard's WASD keys to maneuver your trooper, while the mouse is used to aim and shoot. The number keys (1-5) let you switch between weapons. Your health status is crucial to survival, keep an eye on it and make use of collected medical supplies.
Tips and Tricks
To enhance your survival chances, try to keep moving as much as possible to avoid being an easy target. Utilise stronger weapons like the rocket launcher when faced with clusters of enemies. Remember to regularly replenish health using the collected medicines.
Features
Diverse range of weapons for varied combat scenarios.
A tension-fueled survival experience in a hostile environment.
Persistent health system that emphasizes on strategic gameplay.
A thrilling storyline set on a moon base.
What are the best online games?