Squish These Ants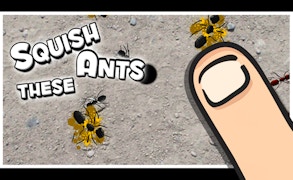 Squish These Ants
Description
In Squish These Ants, you're placed in an engaging world infested with ants. Each type of ant carries different speed and points. Your mission? Squash them! But beware of the red ants - touching three of them, ends your game. Immerse yourself in this enthralling action game filled with suspense, amusement and screen-tapping action.
How to play
The control mechanism of Squish These Ants is simple but yet engaging - just tap on the ants to squash them. Speed and accuracy are critical as the ants vary in quickness. Earn points for every ant you squish but remember, avoid the red ants! Touching three red ants will ultimately end your relentless ant-squashing spree.
Tips and Tricks
Mastering this game requires a blend of speed and precision. For best results, aim for the higher point value ants while dodging the fatal red ones. Keep your tap rate high to increase your chances of a successful hit - the faster you tap, the higher your score!
Features
Variety of ants with different speeds and point values
Intuitive tap-to-squash controls
Engaging gameplay requiring speed and accuracy
Dangerous red ants that add a degree challenge to the game
What are the best online games?