Squid impostor Golden Key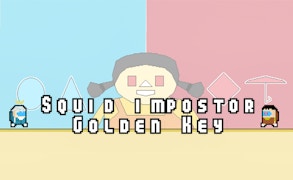 Squid impostor Golden Key
Description
In Squid Impostor Golden Key, embark on a thrilling journey where danger lurks in every nook and corner. This pixelated game features you as the squid impostor embarking on a critical mission. Your objective is to eliminate the monsters and discover the hidden golden key that will enable you to advance to the next level. But remember, the challenges and enemies get tougher as you progress.
How to Play
The game controls are simple, yet require strategic use. Maneuver your character using WASD keys if you're playing on PC or mobile touch control for mobile gaming. Crush your monstrous enemies and keep an eye out for the elusive golden key that holds your route to success.
Tips and Tricks
Stay vigilant, as enemies can appear from anywhere. Use the environment to your advantage during battles. Strategize before every move, especially when advancing to higher levels where monsters are even more formidable. And remember, the golden key is your ticket to victory!
Features
Pixellated graphics: Stylish pixel art that enhances gameplay.
Tough Monsters: Battle strange creatures that get tougher with each level.
Puzzle elements: Think strategically when deciphering how to find the golden key.
Versatile controls:Suitable for both PC gaming (with WASD keys) and mobile gaming (with touch control).
What are the best online games?