Squid Game 3D Survival Squad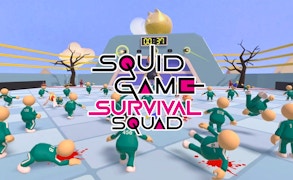 Squid Game 3D Survival Squad
Description
Experience the excitement and trepidation of the iconic Korean Squid Game in Squid Game 3D Survival Squad. This riveting 3D simulator lets you relive the hair-raising challenges as Player 456. Packed with well-known games from the popular show, it offers an authentic, heart-stopping experience that demands skill, speed, and strategic prowess.
How to play
To survive in Squid Game 3D Survival Squad, you must master a series of deathly games. Navigate rounds such as Green Light, Red Light; Dalgona Challenge; Tug of War; Marble Rolling and Glass Stepping Stone. Each game has unique controls that require swift fingers and quick decision-making to progress and ultimately clinch the coveted prize.
Tips and Tricks
Patient observation is key in Squid Game. Carefully study your surroundings, be vigilant of your competitors' tactics, and strategize accordingly. In games like 'Marble Rolling', perfect your timing to nail it in one shot. Remember that steady nerves can be even more valuable than speed.
Features
Faithful replication of popular Korean Squid Game challenges.
Immersive 3D graphics that bring each perilous game to life.
Competitive gameplay that tests your skill, strategy, and nerve.
Addictive action that keeps you on edge round after round.
What are the best online games?