Squid Challenge: Glass Bridge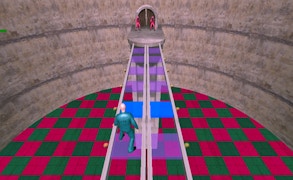 Squid Challenge: Glass Bridge
Immerse yourself in the enthralling world of Squid Challenge: Glass Bridge, an action-packed offering in the exciting realm of escape games, survival games, and skill games. This adrenaline-fueled adventure transports you into the mind-bending games of the globally acclaimed Squid Games series, expertly adapting its harrowing Glass Bridge challenge for a thrilling and unforgettable gaming experience.
Available at the click of a button on kiz10.com, Squid Challenge: Glass Bridge dares you to test your mettle against its merciless glass bridge, a gauntlet of glass-paned perils that demands both courage and wits to cross. This is survival gaming at its most intense; every step is a toss-up between safety and shattering demise. The stakes are high, but so too is the rush of surviving another day - just like the original series.
Packed with high-quality 3D graphics that plunge you into its perilous world, this game doesn't hold back on delivering visually stunning gameplay. From the glossy sheen of precarious glass panels to the atmospheric light casting dramatic shadows, every pixel serves to enhance your immersive escapade.
The challenging nature of this game truly shines in its requirement for analytical skill. With each step, you are forced to make calculated decisions that could make or break your journey across the treacherous bridge. It's not just about making it to the end—it's about outsmarting death at every turn.
In conclusion, Squid Challenge: Glass Bridge stands tall as a fantastic addition to your collection of escape and survival games. If you yearn for gritty games that will test your nerve and skill, don't wait any longer. Skillfully evade traps, survive against all odds and enjoy one hellish yet entertaining mind trip by jumping right into Squid Challenge: Glass Bridge today.
What are the best online games?