Squid Battle Simulator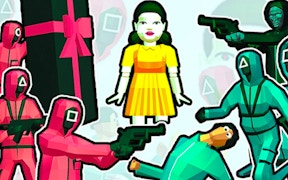 Squid Battle Simulator
Immerse yourself in the heart-pounding, adrenaline-fueled world of Squid Battle Simulator, one of the most potent concoctions of action and strategy war games to have ever graced the gaming universe. An enthralling mix of gun games, survival games and battle games, it engages players in an electrifying realm where only the strongest survive and the cunning conquer.
The game's premise is as fascinating as its gameplay. As a commander of a massive Squid army, you are placed right in the heart of action-packed warfare, tasked to manipulate your battalion in a way that ensures victory even in the face of daunting odds. Whether it's maneuvering soldiers strategically into combat or deploying your shooters to take accurate aim at enemies, every decision counts and influences your chances for survival.
Squid Battle Simulator's unique blend of roles breathes new life into the genre. The managers, front men, and workers with coffins march into war under your command and control. The innovative role of controlling a doll that hunts down moving enemies adds an unexpected twist to this war game. It challenges traditional warfare tactics whilst keeping players on their toes at all times.
The true gem though is its focus on tactical skills. This isn't just about who has the bigger guns but who has the sharper mind. But be warned - proving yourself as the world's best general isn't an easy feat. Trivial choices can lead to devastating consequences or thrilling victories. Every move is crucial; every decision matters.
In conclusion, Squid Battle Simulator thrusts players into a riveting gun game expedition that is more than just a test of endurance—it's a testament to strategic prowess. If you're itching for electrifying battle games packed with action, survival elements, and strategic depth - then look no further!
What are the best online games?