Squid Assassin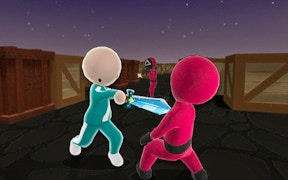 Squid Assassin
Step into the sleek and sinister world of Squid Assassin, a thrilling installment in the genre of action games, masterfully blending elements of sword games, war games, and battle games. This game offers an unforgettable journey that will keep you on your toes, a voyage into stealth and tactical prowess seldom seen in the realm of survival games.
The heart-pounding quest of Squid Assassin plunges you into a shadowy playground where every move matters. With a unique premise of planning an assassination against an intriguing mix of adversaries - killer dolls and workers - it demands a strategy that's as deadly as it is discreet. Stay away from the trigger-happy gun-toting killer baby to achieve what every good assassin does: silent slaughter.
An alluring feature that sets Squid Assassin apart is the abilities to choose your game character from a diverse menu in the Store. Each character comes equipped with distinctive traits, allowing for varied gameplay and replayability. It's not just about becoming stronger; it's about how you adapt, survive, and ultimately triumph in this heart-stopping battle zone.
This addictive action-packed adventure features 50+ diverse levels that keep gamers fully engrossed. Each level presents new challenges, intensifying the thrill while ensuring an uninterrupted gaming experience. Squid Assassin is more than just another entry in the realm of action-packed sword games, war games, or battle games. It's an immersive journey into the mindscape of an assassin where every action has consequences and survival hinges on utmost precision.
In conclusion, ebbing with suspense, drenched in mystery, and fraught with peril – Squid Assassin ticks all the right boxes for those who seek spine-chilling experiences from their action games. Prepare yourself for this immersive plunge into darkness today!
What are the best online games?