Space Rush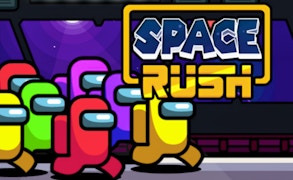 Space Rush
Dive right into the galactic adventure with Space Rush, one of the most heart-pounding Running Games you'll ever find out there. This new-fangled game meshes together our cherished characters from Among Us with breath-taking, treacherous platform levels that are sure to get your heart racing and fingers tapping!
Space Rush is not just one of the exhilarating Skill Games, but it's a thrilling trial of dexterity as well. The gameplay requires precision and quick decisions as your character runs, leaps, and evades a plethora of obstacles. Danger lies in every corner, be it falling off cliffs or running into deadly bombs. It's the perfect fusion of Clicker Games and survival adventures.
What makes Space Rush a standout among other Tap Games is its complex yet addictive gameplay. The objective seems simple - reach the level's end with as many characters as possible. However, it's not easy as it seems, your way to victory is laden with immense dangers! But fear not, brave gamer, because skill mastery and scores lead to unlocking thrilling achievements that improve your gaming experience.
A unique aspect of this game is its flexibility in terms of playing options. Enjoy this captivating journey on any device – mobile, tablet or desktop computer. The game is available exclusively on kiz10.com – your portal for exclusive games every week and new exciting games every day.
Space Rush, where endless adventure awaits, combines elements from our favorite survival games with the appeal of Clicker-style gameplay. So put on your space gear, start running and get clicking this addictive game now!
What are the best online games?