Space Purge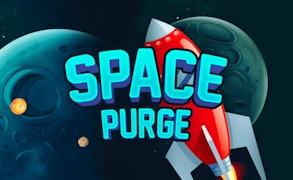 Space Purge
Description
In Space Purge, you are the last line of defense for Earth against impending space rocks. This action-packed shooting game takes place in the vast expanse of outer space. Your mission is to annihilate the incoming rocks and prevent them from reaching the planet. Remember, you only have three spaceships at your disposal and no rock must bypass your vigilance or the game ends.
How to play
The mechanics of Space Purge are straightforward. Use your mouse or touchpad to steer your spaceship and left-click or press to launch your lasers at the incoming space rocks. The game gets progressively harder as more rocks approach at increasing speed, making precision a key skill in this immersive arcade game.
Tips and Tricks
To succeed in Space Purge, keep an eye on multiple parts of the screen simultaneously. Don't focus only on upcoming rocks but also on those appearing from different angles. Always be prepared for abrupt changes in direction and remember that fast reactions can be a life-saver here.
Features
An engaging arcade shooter set in outer space.
User-friendly controls suitable for all ages.
Demanding gameplay that requires quick thinking and strategizing.
Vivid graphics that immerse players into the cosmic environment.
What are the best online games?