Sniper Attack 3D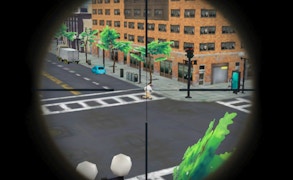 Sniper Attack 3D
Embark on a thrilling journey of precision and strategy with Sniper Attack 3D, a top contender for those love their gun games and sniper games. This engrossing shooting game will have your fingers twitching and heart pounding, demanding expert marksmanship and razor-sharp focus.
In the world of Sniper Attack 3D, you are more than just a gamer - you're a trained sniper, entrusted with the mission to eliminate foes lurking in the shadows. From the perilous rooftops to the grimy streets, every corner teems with danger. Your primary challenge? Discern your prime target amidst a bustling cityscape, align your crosshairs with cool precision, and unleash a deadly shot that heralds victory.
A standout amongst battle games, Sniper Attack 3D drives home an addictive blend of tension and release that is hard to find in other gun games. The formidable foes make each level a new battlefield, testing your sniper skills to their very limits. But beware – one wrong move can cost you dearly.
The game is not just about shooting at sight but requires strategic planning, reminding us that even in the most chaotic battlefields there is always room for cold calculation and methodical approach. You're not only playing a game; you're stepping into the shoes of an elite sniper.
Every kill feels monumental in Sniper Attack 3D - it's not merely about pulling the trigger but about knowing when to pull it. Each bullet leaves an exhilarating trail of anticipation that only intensifies as it finds its mark.
If you're looking for exciting gun games or sniper games brimming with action, strategy, and suspense, then suit up soldier - Sniper Attack 3D awaits!
What are the best online games?