Smash Your PC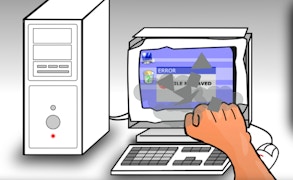 Smash Your PC
Get ready to unleash your inner fury with the hilarious action-packed clicker game, Smash Your PC. This is not just another entry in the saga of tap games; it's a wonderfully chaotic blend of comedy and carnage that any action game enthusiast will enjoy.
In Smash Your PC, you get to live out a dream many of us have secretly entertained during frustrating tech moments - demolishing a computer. But remember, it's more than just hilarity and destruction; it's an amalgamation of smart gameplay mechanics accentuated by a fun-filled premise.
Frantic clicking has never felt so satisfying as you tap furiously on your device, causing virtual mayhem on your digital desktop. Each click translates into devastating blows against your PC, a visual spectacle that is profoundly satisfying. The faster you tap, the quicker you demolish - making this gem stand out amongst other fun games.
The graphics come packaged in cartoon-like visuals, giving the game an appealing aesthetic that matches the comedic undertone flawlessly. This wonderful aesthetic and novel premise make Smash Your PC a standout title among tap games.
The competitive edge communicated via the score tracking feature keeps you hooked. The high score to beat and badges earned through destructive prowess keep things interesting long after the novelty of computer bashing wears off. Thus, encapsulating what we love most about clicker games: endless replayability.
In summary, Smash Your PC offers action-packed entertainment wrapped in hilarity and chaos. Whether you're into clicker games or fun-filled distractions from daily life, this game serves you well beyond just mindless clicking. Unleash your digital rage in this light-hearted satirical take on our technology-ridden lives!
What are the best online games?