Smartphone Tycoon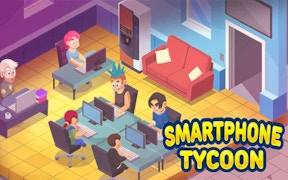 Smartphone Tycoon
If you are a fan of idle games, clicker games, and tycoon games where you get the chance to build, manage and grow your own business, then you're in for an absolute treat with Smartphone Tycoon Idle. This outstanding action-packed game is nothing short of a digital entrepreneurial adventure, attracting lovers of both money games and building games, that also serves as a unique entry point into the world of mobile phone market management.
Dive headfirst into an immersive experience where every click counts. Unlike most idle and clicker games, Smartphone Tycoon Idle offers a whole lot more than just mindless clicking. From designing cutting-edge smartphones to handling the nitty-gritty of business operations, every decision rests on your shoulders as you aim to conquer the smart mobile phone market.
Your end goal? To turn your start-up venture into a global leader in the mobile phone industry. In order to achieve this lofty goal, effective management is key. The game perfectly encapsulates the essence of running a business by incorporating strategic elements that can either propel your company towards success or lead it down the path of failure.
In this stellar example of tycoon and building games, strategy meets fun as you juggle between designing unique smartphones, setting competitive prices, managing production lines, investing in research and development – all while trying to keep customers happy.
Whether you're new to tycoon games or a seasoned veteran, Smartphone Tycoon Idle offers an intriguing blend of strategy and action that's sure to captivate your attention. It's not just a game - it's an enthralling journey into the world of running your own smartphone empire from scratch!
To sum it up, Smartphone Tycoon Idle is much more than just one of those ordinary management games. It's an opportunity- filled with challenges, excitement and adrenaline- that allows gamers and budding entrepreneurs alike to step into the shoes of a tech tycoon!
What are the best online games?