Slime Rush TD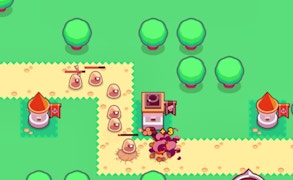 Slime Rush TD
Step into a vibrant world of strategy and combat with Slime Rush TD, the latest in innovative monster games. This strategic marvel brings together the thrill of battle games and skill of archery games, presenting a challenging gameplay that is sure to keep you gripped.
This game throws at you an immense challenge of protecting your kingdom against an impending slime monster invasion. These hordes of slimy creatures are relentless, marching towards your domain with a single goal - destruction. But here's where your strategic prowess takes center stage, as you deploy towers in optimal locations to guard the kingdom's gateway.
Gamers will be thrilled by the sheer range of strategic choices that Slime Rush TD has to offer. The placement and type of your towers, the choice between brute force or precise archery, all these decisions play a crucial role in deciding the outcome of each battle. It's not just about fighting; it's about outthinking and outmaneuvering your slimy foes.
In true spirit of classic battle games, Slime Rush TD offers an exciting level progression that continually keeps you on your toes. As you advance, so does the challenge; each wave grows stronger, faster, requiring ever more clever strategies to keep them at bay.
If you're a fan of strategy and monster war games, don't let this gem pass by. It's time to grab your digital armor, steady your hands for some intense archery action and prepare for wave after wave of slimy onslaughts! Be prepared because no battle is won without a plan. The battlefield is set, and it's time for the ultimate slime showdown with Slime Rush TD!
What are the best online games?