Sky Warrior Alien Attack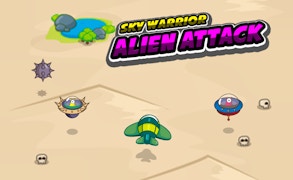 Sky Warrior Alien Attack
Description
Sky Warrior Alien Attack is an exhilarating HTML5 endless shooter game that pits players against invading alien forces. As a skilled pilot, you'll take to the skies, engaging in high-speed dogfights with sinister UFOs. Throughout your mission, you must collect various power-ups like bombs, extra lives, and fuel while trying to save unsuspecting civilians to rack up points and extend your survival time.
How to Play
To play Sky Warrior Alien Attack, simply use your device's controls or mouse to navigate your plane across the screen. Aim for the extraterrestrial crafts and fire away to earn points. Collecting coins, bombs, and fuel refills helps maintain your aircraft and boost your score. Remember to keep an eye out for civilians! Rescuing them will earn you extra points!
Tips and Tricks
Maintaining a steady supply of fuel is key to longevity in Sky Warrior Alien Attack. Always be on the hunt for fuel power-ups. Utilize your bombs tactically against clusters of UFOs for a higher score. Prioritize rescuing civilians when possible, as they significantly increase your points.
Features
Sky Warrior Alien Attack offers:
Vivid graphics: Experience vibrant, immersive graphics that make the dogfights come alive.
Addictive gameplay: With its fast-paced action and endless waves of enemy forces, this game keeps players engaged.
Power-ups: A range of power-ups keeps the game exciting and unpredictable.
Points system: The more you play, the higher your score - challenge your friends to beat your best!
What are the best online games?